CASE STUDY
Minneapolis Institute of Art
Fly-on-the-Wall Observations / Wireframing / Paper Prototype / Competitive Audit / Usability Testing / Interactive Prototyping
The Minneapolis Institute of Art is a fine art museum located in the Whittier neighborhood of Minneapolis, Minnesota. The institution has over 900,000 items in their permanent collection with over 89,000 on display to the public.
CHALLENGE
The Minneapolis Institute of Art was in interested in improving upon their in-gallery digital experience.
ACTION
I conducted a competitive audit of apps and technologies used in museums around the world. Next, a paper prototype was created and tested with museum patrons, public school art educators, and developers. This research led me to create a scavenger hunt application to provide students on field trips with a tool to independently discover and learn more about the works of art in the museum's collection. By speaking with public school art educators I learned that students visiting the museum on field trips typically need a task to ensure they stay focused. It was also discovered that teachers often don't have the time to prepare a curriculum and rely on the institution to engage students with the museum's content.
RESULTS
The mobile application created assists with providing a pathway to the principal works of art at the museum through a scavenger hunt trivia experience. Educators can be sure their students will have a task to keep them engaged with the content and students will obtain a deeper understanding of the collection.
I identified the primary users of this application to be teachers and 6th-12th grade students visiting the museum on field trips.
L0-FIDELITY PAPER PROTOTYPE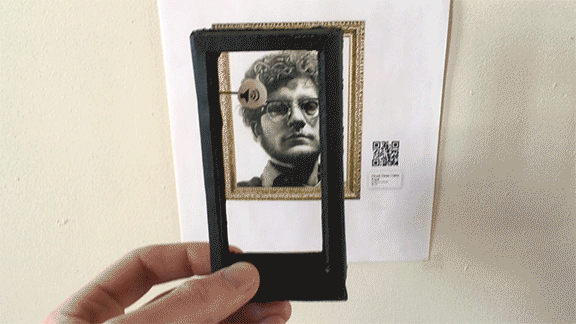 Paper prototyping proved to be extremely helpful during the early stages of conceptualizing, allowing me to quickly visualize and test an augmented reality feature.  I introduced the prototype to developers and quickly discovered due to development constraints this feature was not feasible. Instead, I settled on using QR code technology to create a scavenger hunt trivia experience. This approach was much more cost efficient, and proved extremely effective.